Is your white hair bother you and heat you up? Here are Remedies to reduce White hair.
Hair is a natural jewel for girls. Your entire look depends on it that's why you don't want any kind of issues in your hair. The biggest fear of girls is premature white hair as it can be embarrassing for you. When you find your first white strands then you start finding ways to cover it. But sometimes, people opt unhealthy way to cover it up like plucking it or using chemicals. Now forget those ways and try the given solution.
Before discussing the remedies let's talk about its reasons:
Causes for premature white hair
After some point of age its normal to have grey hair but at a young age, it is like a nightmare. Our hair follicles contain a pigment called melanin which releases black color and hair goes gray when color-producing cells stop producing pigment. This happens due to individual or combination factors which mentioned below.
Genetics
Stress
Improper diet
Health issues(chronic cold, chronic constipation, anemia, thyroid disorder)
Lack of nutrition (Vitamin B12 deficiencies, copper, iron and iodine)
Hormonal imbalance
Overuse of chemical-laden products(styling gels, shampoos, dyes)
Using unnatural styling mechanism(hair dryer, curler)
Hereditary
Use of hard water
Dirty scalp
NATURAL REMEDIES TO REDUCE WHITE HAIR
Amla/ Indian gooseberry
Amla is rich in Vitamin C and has antioxidant properties which help to fight against white hair and turns it black naturally. Amla helps in stimulating hair growth and prevent hair fall by strengthening hair follicles. 
1: Amla paste and lemon juice
Cut the amla and blend it to make a thick paste. Mix 2 tbsp of lemon juice and 2 tbsp of amla paste. Apply this mixture on your hair scalp and leave it overnight. In next morning, wash your hair with any herbal shampoo.
2: Amla, coconut oil, and lemon juice
Take 4 tbsp of amla juice, 2 tbsp of coconut oil and lemon juice each and mix it well. Apply it on your scalp with the help of cotton ball and leave it for 1 hour. After 1 hour wash it with any herbal shampoo. For best result use 3 -4 days a week.
Coconut oil
Coconut oil helps in the nourishment of hair and provide strength to the hair.
1: Coconut oil and lemon juice
Take 1/2 cup of coconut oil and 1 lemon. Heat coconut oil on a low flame and squeeze 1 lemon in it. Apply this mixture when its little cold from root to tip. For best results use regularly.
2: coconut oil, curry leaves, and lemon juice
Heat 1/2 cup of coconut oil with 6-7 curry leaves and lemon juice. Heat the oil until curry leaves leave its aroma. Massage it thoroughly on your hair after it cools down. Use regularly.
Hibiscus Flower
Hibiscus flower is one of the popular herbs for hair growth. It is rich in vitamin C and amino acid which stimulates hair growth, stops hair fall and of course prevent hair greying.
Hibiscus infused oil
Boil Hibiscus flower in your regular oil for 10-15 minutes. Massage your hair with this oil when it cools down. Apply this oil before your regular bath.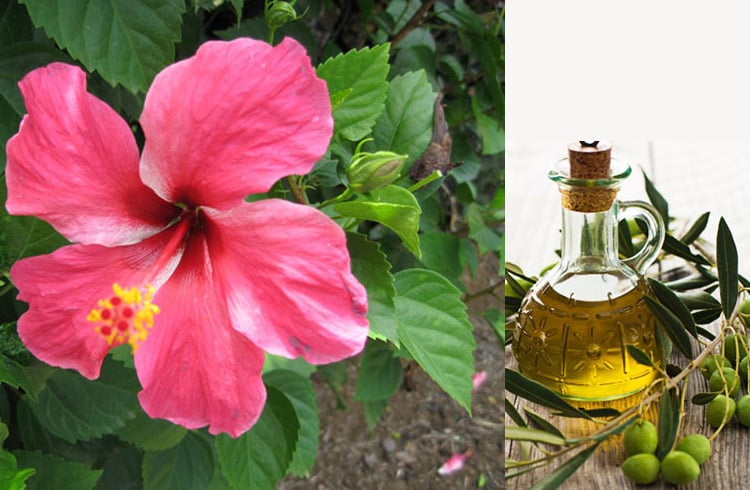 Black tea
Black tea contains nutrients which help in recovering of black hair.
Boil 2 tbsp of black tea leaves in a water. When it cools down Strain out the tea leaves. apply this on your and leave it for an hour. wash it afterward with cold water without using shampoo.
Tips
Follow the proper diet and eat healthy foods
Massage your hair twice a week
Use natural ayurvedic product instead of chemical products
Avoid stress or reduce it by meditation and positive thinking
Eat sesame
wash hair with gram flour and curd mixture.
Rub onion paste on your hair scalp
Do yoga or exercises.